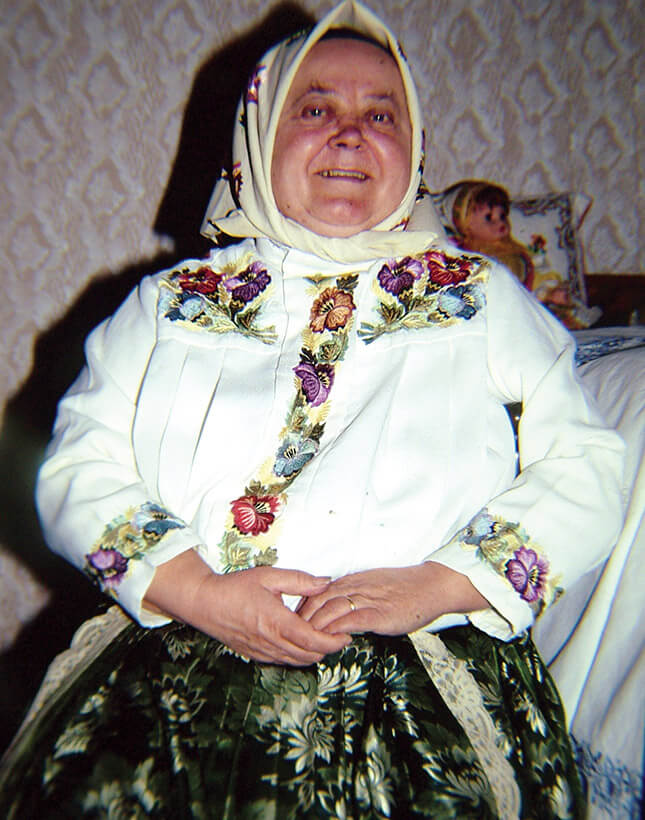 Zuzana Chalupova

(Kovačica, 1925 - 2001)
She finished five grades of elementary school. In the fifties, as a member of the Women's Association, she embroidered scarves, shirts, tapestries… she was known as the best because she complemented traditional motifs with her own ornaments. As soon as she sold the tapestry for five thousand old dinars, she bought oil paints to paint on canvas.

She painted her first oil painting in 1964, "Hemp Beating".

Her success was meteoric. She started collaborating with the Gallery of Naive Art in Svetozarevo, exhibited for the first time in Kovačica (Kovačica October), and had her first solo exhibition in 1968 in Dubrovnik, from which enthusiastic foreigners bought all the paintings.

Children are the main motif of Zuzana Halupova's artistic expression. She even painted adults as children, the only difference was in her mustache. It is often said that Zuzana is a painter of a child's soul. In addition to children, frequent motifs are winter, the blacksmith's church, and biblical themes.

Not a small number of works arose from humanitarian needs. This is how the monumental composition dedicated to the Red Cross in Geneva was created. In the foreground are dozens of figures of children and members of the Red Cross, dressed in traditional Slovak costumes with Red Cross insignia.

One symbolic composition was made in 1978 for the Institute for the Protection of Cultural Monuments of the Republic of Serbia "Let's Protect Cultural Monuments". This painting is dominated by the monastery of Gracanica, which is located next to the statue of the "Victor" around which are many happy children in Slovak costumes, several Orthodox priests, many birds, icons, buttercups, sidewalks, while God in heaven watches this perfect harmony.

In 1974, Halupova painted "UN Children" for UNICEF, a work full of symbols: in the center of the composition is a globe and in the background is the UNICEF building. There is also the Statue of Liberty, happy children, storks, angels with olive branches. In the same year, UNICEF printed her painting "Winter" in the form of New Year's greeting cards in two million copies.

Her paintings with their bright and striking colors radiate serenity and optimism. Numerous publications and documentaries about the life of Zuzana Halupova have been published.
Zuzana Chalupova's artworks in the fund of Gallery of naive art:
Vacation in the park, 68×100, 1965, 4/571
Christmas Eve, 49×68, 1969, 5/572
A walk, 49×68, 1969, 6/573
Laundry, 50×70, 1967, 7/574
Completion of the harvest, 44×64, 1975, 13/580
Cultural Center, 66×120, 1971, 20/587
Wedding, 50×65, 1973, 68/635
Bathing a newborn, 50×69, 1964, 71/638
Gypsy camp, 60×100, 1974, 116/683
Playing in the snow, 50×70, 1977, 138
At school, 40×56, 1980, 139
Baking bread, 40×56, 1980, 140
Joy on the grass, 70×50, 1981, 141
Lunch, 44×64, 1978, 142
Spring, 59×100, 1978, 143
Harvest, 74×54, 1983, 164
Spindle, 70×50, 1982, 165
Newlyweds, 29×39, 1985, 166
Reapers, 40×55, 1984, 167
Women's jobs in the countryside, 70×100, 1964, 168
Children's play, 56×40, 1986, 199
Children of the world, 70×50, 1986, 240
Homework, , 40×56, 1989, 261
Village yard, 65×45, 1990, 290
Saints, 56×40, 1988, 275
Religious education, 70×50, 1992, 309
In the room, 56×40, 1995, 341
Winter evening, 100×70, 1995, 347
Ice cream maker, 56×40, 1996, 369
Halupa family, 40×55, 1998, 401
Children's play, 40×65, 2000, 435