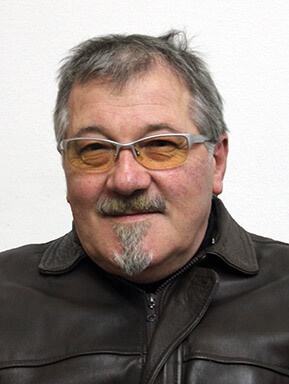 Štefan Varga

(Kovačica, 1959)
Štefan Varga was born in Kovačica on June 19, 1959 where he finished his secondary school. He finished high school in Mostar in 1978 when he felt a desire to present his paintings and drawings to the public.
One of his first oil paintings is called 'Digger' from 1977 and it belongs to the period when he was experimenting and learning different painting techniques along with painting on canvas.
Themes of his paintings are connected to the past which, according to him, should be preserved for eternity. Usually his paintings show everyday life, in rich colors, precisely composed with good use of space.
In the past few years Štefan Varga has been working on a series of paintings called 'Dreamland', which gives him a freedom to express his fantasies inspired mostly by Banat's plain.
Štefan Varga became a member of the Gallery of Naïve Art in Kovačica in 1999 and since then he actively exhibits and participates in all the exhibitions which this institution organizes. He independently exhibited on 16 occasions and contributed to numerous collective exhibitions and art colonies in Serbia and abroad.
Štefan Varga's artworks in the fund of Gallery of naive art:
Happy guys, 40×60, 2005, 527
Help, 40×60, 2006, 543
In the snow, 40×60, 2007, 546
Homecoming, 2008, 562
Dance, 40×60, 2009, 572
Dance, 50×60, 2013, 620
Hunters, 56×45, 2004, 460
Fishermen, 60×40, 2012, 648
Hunter, 50×40, 2017, 665
Ship, 50×60, 2019