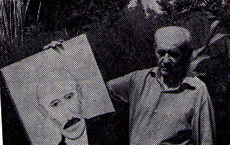 Pavel Hrk

(Kovačica, 1922 - 1996)
He finished four grades of the elementary school in Kovacica and three grades of craft school in Kacarevo.
He worked as a carpenter. Painting helped him get through the hard times of war.
In 1953, Paluška, Sokol, and Jonaš invited him to join the art section of the cultural and educational society "Pokrok". Since he was not tied to the land, he paid less attention to the man and his work in the field, he usually painted nature.
He began exhibiting in 1954, at Kovacica October. He occasionally participated in collective exhibitions in the country and abroad.
Pavel Hrk's artworks in the fund of Gallery of naive art:
Rural road, 48×68, 1964, 81/648
Hunting wild ducks, 48×68, 1964, 109/676
Portrait, 48×68, 1982, 180