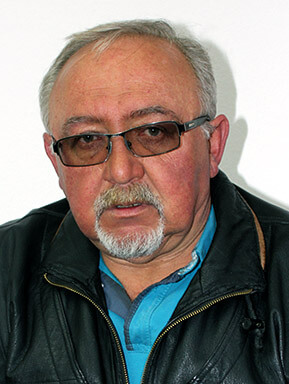 Pavel Cicka

(Kovačica, 1961)
Pavel Cicka was born in 1961 in Kovačica where he finished secondary school and high school in agricultural studies (mechanical engineering) in Pančevo.
Pavel's talent for painting was recognized while he was still in high school. As a student, he illustrated school magazines. He first exhibited his work in 1978 and from then onwards he became more seriously involved in painting. He had his first individual exhibition whilst doing national service in the army in Kruševac, in 1982.
He became a member of the Gallery of Naïve Art in Kovačica in 1986. He currently exhibits his works of art individually but also participates in collective exhibitions in Serbia and worldwide. He took part in numerous art colonies.
In his paintings, Pavel pays particular attention to landscapes. In his colorful landscapes depicting the plain usually with a deep horizon, he portrays people, small, idyllic cottages made out of wood and straw and scattered across the landscape. These wayside objects apart from their picturesque function, help create an illusion of the perspective and depth of the plain.
He portrays people working, fishing, or in moments of relaxation putting them at the forefront of the picture or integrated into the wider picture of a landscape.
Pavel Cicka's artworks in the fund of Gallery of naive art:
Railway crossing, 60×40, 1986, 207
Drying poppies, 50×70, 1985, 206
Millers, 60×40, 1986, 247
Horses, 70×50, 1989, 277
Observation, 50×40, 1990, 287
Field, 39×49, 1991, 298
Scared horses, 40×50, 1992, 306
Driving hay, 50×40, 1992,325
Two horses, 40×60, 1994, 340
At the well, 40×30, 1995, 342
It will rain now, 32×29, 1996, 364
Waiting, 40×50, 1997, 396
Fishermen, 50×70, 1998, 398
Hard work, 40×50, 1999, 414
Thief, 50×40, 2000, 433
Bathers, 50×40, 2003, 477
Fishermen in winter, 50×40, 2003, 478
A game on sweet earth, 50×40, 2004, 508
Harvest, 50×40, 2005, 513
Fishermen, 50×40, 2006, 529
Scarecrow, 50×40, 2007, 550
Winter idyll, 50×40, 2008, 558
Fishermen in winter, 40×50, 2009, 583
Winter idyll, 50×40, 2011, 600
Farm, 47×57, 2013, 610
Hunter, 32×40, 2014, 623
Near the well, 40×50, 2014, 624
My story, 100×80, 2018, 654
Goose keeper, 40×50, 2017, 666