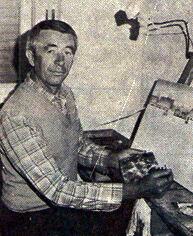 Ondrej Venjarski

(Kovačica, 1930 - 2019)
He was born in Kovačica. He completed six grades of elementary school and a three-year course for farmers. He was engaged in agriculture. He started taking pictures in the army. He has been painting with oil paints since 1959 because he could not get them before that. Then he entered the blacksmith art section.
His favorite topics are vintage and white, good-natured bulls.
Since 1962, he has collaborated with the Gallery of Self-taught Artists in Jagodina. He has participated in numerous collective exhibitions in all parts of the country and the world. He exhibited for the first time in 1960 at the Kovačica October event.
Ondrej Venjarski's artworks in the fund of Gallery of naive art:
Weaver's loom, 32×60, 1965, 46/613
In Kovačica, 46×60, 1965, 47/614
Drummer, 50×80, 1967, 48/615
Sowing with oxen, 28×52, 1972, 49/616
Swineherd leaving, 32×60, 1972, 50/617
Transporting the patient, 31×62, 1974, 51/618
Newlyweds in a carriage, 65x'110, 1976, 52/619
House builders, 38×65, 1965, 96/663
Village under the snow, 46×56, 1965, 115/682
Harvesting corn, 35×55, 1979, 137
Thirsty horses, 35×55, 1981, 162
Frightened oxen, 40×30, 1983, 163
Accident, 40×25, 1986, 197