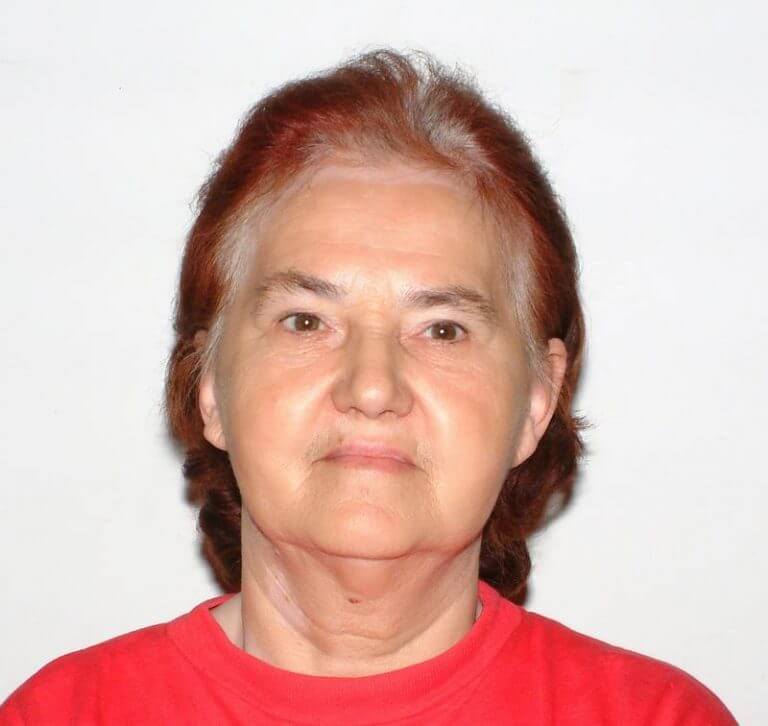 Katarina Karlečik

(Kovačica, 1937)
Katarina Karlečik was born in Kovačica, where she also finished secondary school. She completed high school in Belgrade and then worked as an accountant in her home town. As she liked painting from an early age, she took painting lessons that were organized by Martin Jonas in 1954.  Because she finished high school in Belgrade, she has had the opportunity to continue her artistic training in the so-called `School of Sumatovac`. 
Katarina participated for the first time in the event `October in Kovačica` in 1957.  She then took a break from exhibiting for 20 years.
She had her first solo exhibition in 1969 in Kovačica. She became a member of the Gallery of Naïve Art in 1981. She currently lives as a retiree in Kovačica.
Katarina Karlečikova wanted to study painting at an academy of art. Her dream was not realized, but the desire to express herself through painting led her to become a naïve artist.
The artist depicts a country life in a traditional manner, from her childhood memories. It is an idyllic world presented in attractive colors. What distinguishes her from other painters is that she aims to eliminate the background of her paintings, by reducing it to a single color: blue, or most frequently red, and this emphasizes the psychological impact of the meaning of the color, and the figures which are set as ornaments on the land, gain a more profound meaning. Black figures in the movement against the red background look very exotic and appealing.
Katarina Karlečik's artworks in the fund of Gallery of naive art:
Mother with a child, 70×48, 1975, 35/602
At the table 45×63, 1975, 95/662
In the room, 46×31, 1980, 146
Field worker, 40×30, 1984, 171
Tanner, 48×38, 1986, 200
Reapers, 50×37, 1987, 230
Feeding the baby, 30×30, 1991, 302
Lunch in the field, 30×30, 1991, 301
Playing in the snow, 85×35, 1990, 295
Reapers rest, 63×44, 1987, 272
Sunflowers, 30×40, 1990, 294
Furrier, 80×70, 1992, 313
Harvest, 46×39, 1993, 319
Dawn, 35×35, 1994, 333
Harvest triptych, 34×34, 34×34, 85×34, 1995, 352
Wedding, 60×50, 1996, 373
Thirst, 35×35, 1997, 390
Sunrise, 50×60, 1998, 404
Hemp processing, 50×60, 1998, 422
Autumn, 53×63, 2000, 439
Hemp processing, 50×70, 2001, 453
Diggers, 40×50, 2002, 468
Mower, 50×40, 2003, 484
The horses run away, 40×30, 2004, 509
The yard of my childhood, 30×40, 2006, 533
A family of geese, 35×46, 2007, 548
Winter, 60×40, 2007, 563/08
Autumn fruits, 51×61, 2009, 569
Rooster fight, 50×40, 2009, 582
February, 50×70, 2012, 622
Harvest, 50×35, 2014, 627
Rooster, 20×30, 2014, 653
Mowed grain, 20×30, 2016, 657
The end of autumn, 50×50, 2019