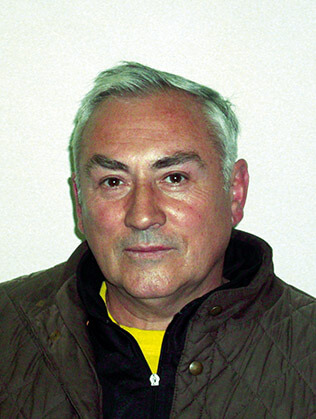 Jano Žolnaj

(Kovačica, 1953)
Jano Žolnaj was born on November 1, 1953 in Kovačica, in a Slovakian working-class family. His life journey and profession led him to travel across the country. Currently, he works and lives in Kovačica. He has been painting since 1974 and he became a member of the Gallery of Naïve Art in Kovačica in 2008.
During many years of experimenting with his artistic talent, he built his authentic style. Apart from using canvas to express his personal experiences, memories, and ideology of Slovakian villagers he also uses other natural materials.
He exhibited his works of art individually and on collective exhibitions in Serbia and abroad. Part of his artistic works has been seen by fans of naïve art in many big cities (Milano, Wien, Munich, Paris, Bucharest, Bratislava, Balaton, Tokyo, Washington, etc) on collective exhibitions and his paintings and other creations enrich interiors of many homes across the world. In our country, he has been exhibiting in Kovačica, Belgrade, Smederevo, Bački Petrovac, Guča, Lapovo, and Kikinda. He is always keen on participating in different cultural and humanitarian events and art colonies in Serbia and abroad.
Jano Žolnaj received numerous prizes for his work. Some of them are: Third place on the International naïve art saloon in Bucharest in 2005, Tokyo Metropolitan Museum award in 2007, Balaton 2012, Gold Medal on the festival in Plandište in Banat 2010, etc.
"…I am inspired by my personal experiences, my past, memories of my ancestors, poetry, and fantasy…"
Jano Žolnaj's artworks in the fund of Gallery of naive art:
My village, 40×60, 2009, 586
Disappointment, 40×60, 2011, 595
Thirsty soul and eyes, 40×60, 2013, 614
At the well, 50×70, 2014, 633
Winter, 40×90, 2017, 691
Kovačica, 38×54, 2001, 692
Game in the field, 50×40, 2012, 693
Meeting with hunters, 50×40, 2017
Grape harvest, 50×40, 2019