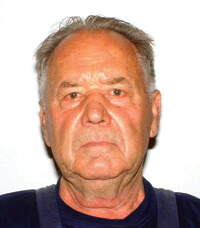 Jan Strakušek

(Kovačica, 1926 - 2014)
He was born in Kovačica. He finished five grades of elementary school. Until the Second World War, he was a servant to wealthy peasants, and after the occupation, he was taken to forced labor in a village inhabited mainly by Danubian Germans. In 1944, he joined the People's Liberation Army, where he earned a medal for bravery.
After the war, he completed a six-month masonry course in Kovačica, and later two grades of high school in masonry, and thus obtained the diploma of construction manager. He worked in various construction companies, and also as an independent master mason.
He discovered his talent during his military service, he painted wall company newspapers.
An exhibition organized by his neighbors in 1952 left a strong impression on him. Then he decided to start painting more seriously himself.
He searched for his own expression for a long time. He often tried to imitate educated painters and thus approached the city amateurs of non-independent expression. However, he managed to overcome this way of working and create original work.
In addition to the usual rural themes, he painted portraits, but also scenes from the Second World War. The figures of the paintings seem to be stiff, and their faces are portrayed.
He has participated in numerous group exhibitions, for example in London, Edinburgh, Vienna, Turin, Brno, Bratislava. He participated in almost all exhibitions of Kovacica's October.
Jan Strakušek's artworks in the fund of Gallery of naive art:
Opened door, 51×71, 1970, 16/583

Prelja

, 52×80, 1963, 17/584
Planting potatoes, 53×80, 1960, 61/628
Partisans in action, 52×81, 1959, 72/639
The chirping of geese, 52×75, 1975, 73/640
Prelo, 80×54, 1983, 169
Shepherd's salary, 52×40, 1986, 209
Swing, 76×51, 1985, 220
Grain threshing, 75×52, 1988, 242
Playing a game, 64×44, 1989, 281
Anxious herd, 40×50
Meeting, 51×39, 1989, 282
In an ambush, 51×39, 1994, 334
Flowers, 31×22, 1995, 353
Still life, 70×45, 1996, 374
Hemp extraction, 35×40, 2003, 485
Dad, pay me off, 50×40, 2004, 496
Still life, 2007, 553