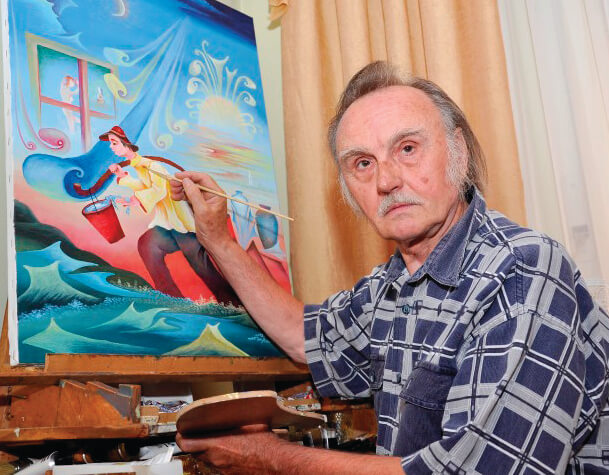 Jan Husarik

(Padina, 1942 - 2017)
He was born on May 27, 1942 in Padina. He finished elementary school in his hometown. He started
painting in 1958, had his first solo exhibition two years later in his hometown. In 1968 he became a
member of the Gallery of Naive Art in Kovačice.
He was a world-renowned artist, as evidenced by the various accolades he received throughout his life.
Some of them are: Recognition for art and technology in Milan, honorary membership in the International
Association of Culture in Naples, award of France for cultural cooperation …
Over half a century of his work, Husarik has organized a number of exhibitions at home and abroad –
Paris, Melbourn, Sydney, Kuala Lumpur …
Jan Husarik was the founder and chairman of the Association of Padina Painters "Smäd". His paintings
were dominated by thirst and lack of water, a long-standing problem of the inhabitants of Padina. He
made them a universal symbol of thirst: physical, mental, thirst for love and a happy life.
A special theme that inspired Jan Husárik over the years was the history of Troy. According to him, the
ancient Homer's Troy was in Banat. With his artistic work, he also tried to show the feeling of warmth and
idyllic character of village life.
Jan Husarik died in 2017, on January 27 in his native Padina.
Jan Husarik's artworks in the fund of Gallery of naive art:
Thirst I, 50×35, 1996, 31
Thirst II, 50×35, 1968, 32
Winter, 50×40, 1988, 274
Thirst III, 40×30, 1974, 173
Diggers, 80×60, 1985, 172
Blooming amphora, 50×70, 1986, 212
Broken jar, 40×50, 1977, 102
Winter landscape, 70×50, 1987, 241
A rose with thorns, 40×50, 1989, 278
Still life, 40×50, 1989, 279
Water carrier, 40×30, 1994, 329
Autumn, 30×40, 1996, 365
Pumpkin flower, 54×44, 1997, 384
Thirst, 50×40, 1987, 680