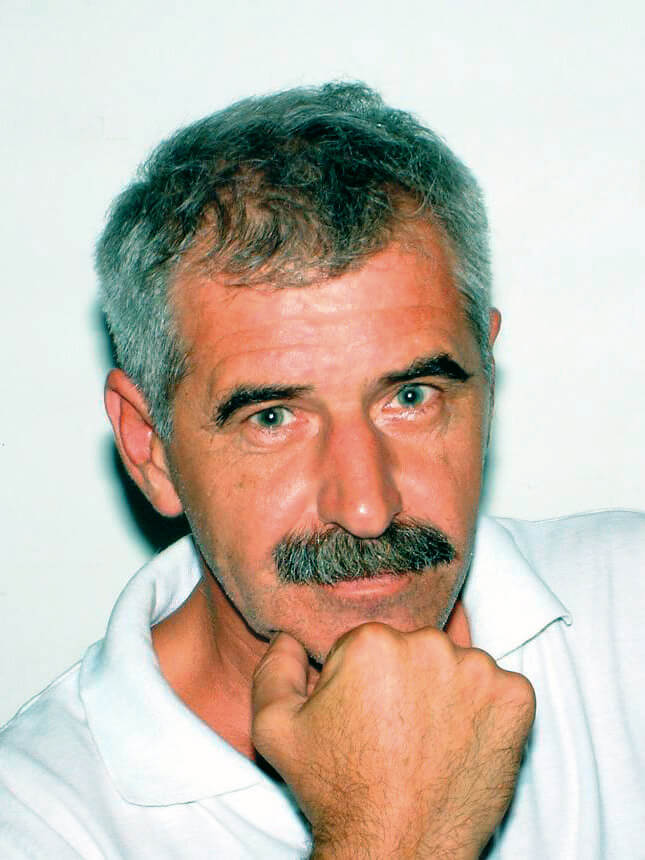 Jan Glozik

(Kovačica, 1957)
Jan Glozik was born in Kovačica in 1957. He began painting in 1975. He had his first solo exhibition in Kovačica in 1983, and his first solo exhibition abroad took place in 1992 in Bratislava.
Even as a young boy, Jan 'absorbed' traditional values of Slovakian folklore, typically featuring rich colors. He did not have to search long for his artistic style. In the beginning, his paintings were mostly dark-colored, with various themes and without a dominant motive. Figures in his paintings are instinctively over magnified. Unlike most other painters who emphasized the colors of traditional Slovakian costumes, Jan does not stress its decorative elements. The clothing of his characters is a simple peasant-style.
Their faces express a strong melancholy.  His figures are depicted in the village, besides their old houses or fences, or in the fields. His more recent works are filled with abundant details.  The most common motifs are pumpkins, barrels of wine, and village musicians.
Jan's paintings demonstrate interesting combinations of melancholy, sadness, pessimism, and also hope.  They are expressions of timeless worries of villagers, who are tied to the land, who work hard not knowing there will be a certain result but who also know how to relax and enjoy at times.
Jan Glozik's artworks in the fund of Gallery of naive art:
Delivery of wheat, 37×47, 1989, 263
A walk in the field, 60×40, 1990, 289
At the end of the village, 50×40, 1991, 299
Rest, 50×40, 1997, 95
Wage earner, 50×40, 1995, 346
Bird nest, 45×38, 1996, 368
Agreement, 70×100, 1997, 387
Hunters, 70×80, 1999, 417
On the road, 74×55, 2000, 434
Farm, 60×50, 2001, 465
Winter, 40×50, 2002, 466
Conversation, 50×40, 2003, 480
Musician, 40×50, 2004, 503
Winter, 50×40, 2005, 514
Winter, 50×40, 2006, 530
Winter, 50×60, 2008, 557
Bell in Kovačica, 100×55, 2010, 591
Farm, 80×60, 2012, 606