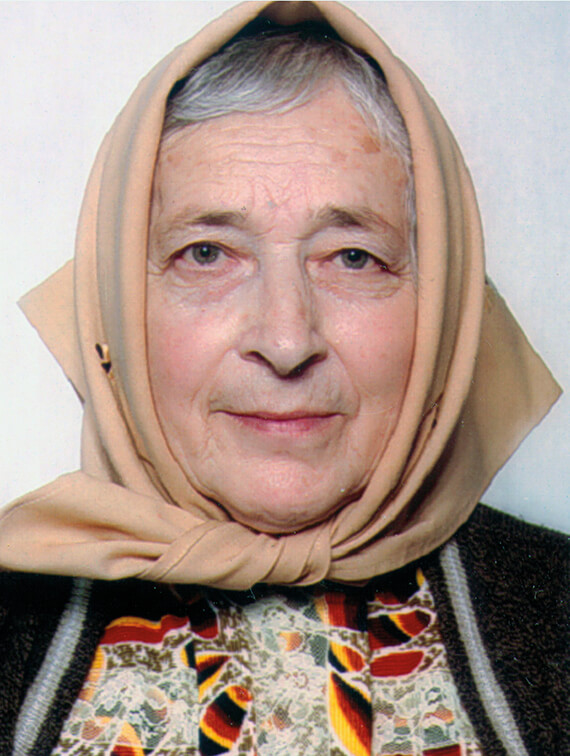 Eva Husarik

(Kovačica, 1942)
Eva Husarik was born on December 2, 1942 in Kovačica where she finished secondary school. She is a housewife but recently she started painting on a professional level. Under her older sister's Alžbeta Čižikova influence she developed an early interest for painting. She started to use oil paint in 1969, which was also the first time she exhibited in October in Kovačica event. That same year she became a member of the Gallery of Naïve Art in Kovačica.
Her motifs, mainly cheerful, are taken from everyday life: she portrays weddings, family ceremonies, christening, children in the playground, but also geese and working in fields….She often paints rich interiors with embroidered pillows, colorful beds and walls. A frequent motive in her painting is still life, especially flowers. Something that you would recognize her by is her emphasis on certain details especially with bright red, pink or blue colors.
Since she pays great attention to detail, her paintings also have an ethnographic value.
Till now, Eva has had over 30 solo exhibitions and participated in more than 300 collective ones in Serbia and abroad. For her overall work up until now, she was awarded many prizes. One of those is an honorable award for lifetime achievement which is awarded by prince Juraj Radzivil-Anoskin, the head of Slovakian aristocratic society.
"..with great joy, I paint red ripe apples which resemble cheeks of Kovačica's beauties, winter nights with big full moon…''
Eva Husarik's artworks in the fund of Gallery of naive art:
The youth, 40×60, 1975, 8/575
Christmas Eve, 40×59, 1970, 10/577
Guarding the vineyards, 58×68, 1969, 105/672
Going to church, 68×44, 1986, 210
Going to the fair in the winter, 45×30, 1988, 234
At the station, 63×44, 1987, 245
Winter, 40×60, 1991, 304
Spinning wheel 69×44, 1987, 273
Peasant room, 60×40, 1990, 296
Bleaching cloth, 40×60, 1992, 314
On the bridge, 40×60, 1975, 9/576
Christmas Eve II, 40×60, 1993, 320
On the vineyard, 60×40, 1994, 335
Sunflower, 60×40, 1995, 354
Christmas Eve III, 40×60, 1996, 375
Girls funeral, 70×50, 1996, 391
The sun above Kovačica, 35×60, 1998, 405
At the blacksmith, 45×60, 1999, 423
Red tulip, 45×60, 2000, 440
Wedding, 50×60, 2001, 454
Christmas singers, 50×70, 2002, 469
The white saturday, 50×60, 2003, 486
Playing in front of the house, 50×75, 2004, 507
The Kovačicas band "Rosička", 40×70, 2005, 518
Apple harvest, 50×60, 2006, 534
Secret baptism, 50×60, 2007, 549
Thirsty animals, 50×60, 2008, 555
Christmas tree, 60×50, 2009, 571
Sledding, 50×60, 2009, 581
Only I am alone, 60×40, 2011, 539
Playing with small geese, 40×60, 2011, 603
Scared horse, 60×50, 2013, 619
Harvest, 60×50, 2013, 628
In the field, 50×60, 2016, 652
Bleaching canvas, 50×60, 2018