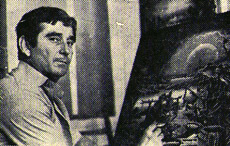 Ondrej Pilh

(Ostojićevo, 1938 - Pančevo, 1992)
He completed his primary education in Ostojićevo, first he learned to be a blacksmith and then he got a
degree of a locksmith in Novi Sad and Belgrade, which is the occupation he held till the end of his life.
Lived and worked in Pančevo.
Main characteristics of his work: he is recognizable after and famous for his topics because he was
mainly painting fishing and fishermen, showed in rather bright colors.
Ondrej Pilh's artworks in the fund of Gallery of naive art:
Three fishermen, 59×79, 1977, 33/600
Fishermen of my region, 80×120, 1976, 34/601
Fishermen of my region II, 55×71, 1976, 67/634
On the boat, 45×80, 1974, 94/661
Fishermen, 55×71, 1975, 119/686
Resting fishermen, 38×58, 1978, 149
There's a carp, 41×58, 1978, 150
Fishing tools, 50×60, 1980, 151
Near a fish pot, 40×50, 1985, 176
Fisherman with his wife, 60×50, 1983, 177
Rest, 70×60, 1984, 178
Basketry, 70×60, 1982, 179
Picking mushrooms, 65×50, 1986, 201
Fish, 65×50, 1987, 244
Longing for the past, 60×50, 1989, 265
Thinning, 60×50, 1990, 293
Fishermen, 45×40, 1989, 280
Classifying, 45×40, 1988, 276
Women help, 60×50, 1987, 271