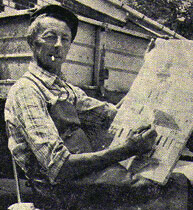 Jan Venjarski

(Kovačica, 1928 - 1985)
He finished four grades of elementary school. He lived from agriculture until the end of his life.
He made his first painting steps in the army in a wall newspaper. He was a lover of nature and horses were the first and most common motif in his paintings. In his 830 paintings, he faithfully preserved the folklore elements and solemn moments of the village collective.
He exhibited at the Kovačički October, since he started painting (1954-1985). The most valuable recognition was awarded to him by MK SSRNV in Kovačica, on the occasion of the 30th Kovačica October – Silver Plaque.
Jan Venjarski's artworks in the fund of Gallery of naive art:
Hunters, 40×64, 1964, 53/620
Train station 50×84, 1967, 54/621
Bullock transported wheat, 49×79, 1972, 55/622
A woman with a plow, 36×60, 1975, 69/636
Slovak room, 41×51, 1967, 70/637
Hemp processing, 45×61, 1960, 97/664
Winter wedding, 41×64,1963, 98/665
The first day of the wedding, 50×70, 1972, 99/666
Wedding guests on a acarriage, 39×64, 1970, 100/667
The last day of the wedding, 37×62, 1979, 133
Angry horses, 35×60, 1977, 134
Harvest joy, 31×44, 1980, 135
Slaughter of pigs, 33×51, 1981, 136
Accordion dance, 51×32, 1982, 161