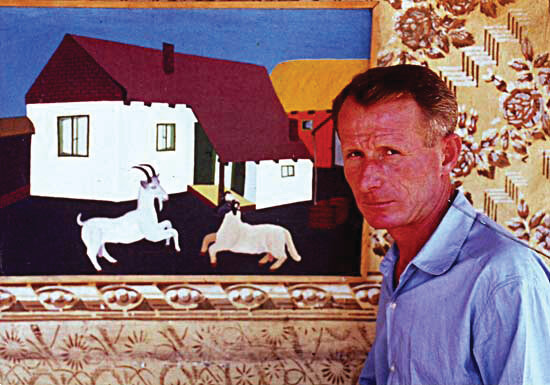 Jan Garaj

(Kovačica, 1930 - 2003)
He was born in Kovačica and finished four years of elementary school, as well as two years of civic school. He worked as a farmer and an unqualified construction worker in Belgrade and Germany. By his own words, in 1955 he accidentally went to an art exhibition, which made him interested in painting.
With a little help from his neighbor Knjazovic, he started painting. Many considered him the most authentic naive artists in Kovačica. His works are full of true charge and sometimes carry sheer force. Garaj didn't idealize village life and often portrays hard work in his paintings. He presents this with a heavy, and slightly harsh artistic expression, which is in line with the life it is supposed to portray. His paintings don't have illusions of space, therefore the background consists of two colored surfaces without tonal tinting. This brings attention to the authentic artistic expression in his paintings, of which there are over 300.
He had his first exhibition in 1960 at the "Kovačicki oktober" event. He also frequented many collective exhibitions in his country, and abroad.
Jan Garaj's artworks in the fund of Gallery of naive art:
Breakfast in the field, 35×46, 1962, 60/627
First furrow, 49×69, 1965, 82/649
Well, 49×70, 1965, 83/650
Moil, 40×60, 1965, 84/651
A girl and a black kid, 31×30, 1975, 198
Transport of straw in winter, 60×40, 1975, 222
Coachman, 40×60, 1988, 243
Grain threshing, 40×60, 1989, 262
Game, 53×38, 1993, 322
Winter, 32×55, 1995, 356
Pinok, 48×35, 1996, 377
In the room, 35×50, 1997, 393
Breakfast, 40×50, 1999, 424