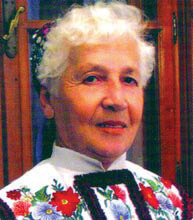 Alžbeta Čižik

(Kovačica, 1936 - 2021)
Alžbeta Čižik was born on April 4, 1936 in Kovačica. She graduated from an administrative high school.
Alžbeta belongs to the first generation of naïve painters in Yugoslavia and was one of the founders of the Gallery of Naïve Art in her birth city.
Alžbeta depicts everyday country life with warmth and sincerity. Through her work, she represents the tradition and customs of her life and community. Her paintings present nascent cheerful juvenility and romantic, idealized homeland landscapes. She shows great skill in drawing, though also works with graphics, using materials such as aquarelle and pastel. For that reason, her paintings are a synthesis of drawing and rich color depicting harmony and poetic serenity.
Alžbeta received numerous awards for her work, including a medal from the city of Amsterdam in 1979, a gold medal from an international exhibition held in Debeljača in 1989, and a special reward during the VI Biennale of Yugoslavian Naïve Art in Jagodina in 1993. She has also received a diploma from the International Exhibition of Naïve Art in Lisbon in 1996 and in 1999 received recognition for her overall artistic work during the IX International Biennale of Naïve Art in Jagodina.
She passed away on September 29th 2021.
Alžbeta Čižik's artworks in the fund of The Gallery of Naive Art:
Swing, 46×64, 1966, 89/656
Prepare the bride, 40×52, 1967, 90/657
Ironing, 40×60, 1972, 91/658
Pub, 50×70, 1973, 92/659
Threshing wheat, 42×66, 1976, 93/660
Poppy processing, 49×65, 1970, 108/675
Boys and girls, 42×66, 1976, 117/684
Spindle, 42×66, 1978, 144
Corn processing, 56×76, 1979, 145
Making the road, 70×30, 1981, 170
Dancing in a pub, 40×60, 1986, 204
Grape picking, 35×60, 1987, 205
Wedding, 100×45, 1987, 217
Preparing hemp, 60×50, 1989, 264
The first day of the wedding, 70×100, 1992, 310
My parents, 56×40, 1990, 292
Folk dance, 100×70, 1995, 349
In the yard, 30×40, 1996, 371
By the water, 70×50, 1997, 395
Tearing 43×64, 1998, 412
Toys are sold, 50×40, 1999, 419
Good Friday, 45×64, 1998, 437
A ballad about a cursed daughter, 40×56, 2001, 451
Preparing hemp, 70×100, 02/03, 495
Horses by the water, 50×60, 2005, 515
Grape harvest, 60×80, 2006, 531
Painter in the High Tatras, 40×50, 2012, 604
At the well,  40×50, 2011, 671